What You Need to Know Before Coming to Campus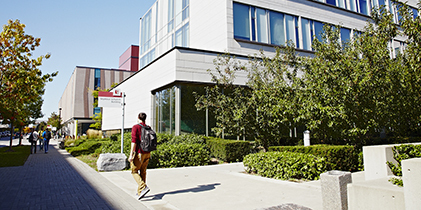 Vaccination Requirement
In line with easing public health restrictions in Toronto and across the province, York will pause its COVID-19 Vaccination Mandate. York strongly recommends that everyone receives a completed vaccine series, including third or fourth doses, when eligible. Please keep your vaccination status up to date on YU Screen.
Should the University reinstate the Vaccination Mandate policy, students who do not keep their vaccination status up to date or who are unvaccinated could find their in-person studies interrupted.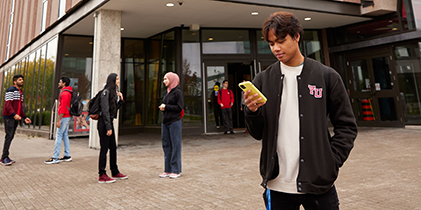 YU Screen
The requirement for daily health screening for those coming to campus is paused. Students should continue to monitor their health and not come to campus if they are feeling unwell. You should continue to use YU Screen to self-assess and the case and contact team will continue to support those who report symptoms.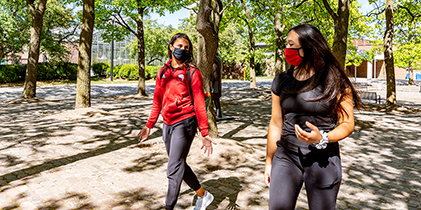 Masking
To further support the health, safety and well-being of those on campus, York's mask protocol will be extended until further notice. Masks will therefore continue to be required in all indoor spaces including, but not limited to, classrooms, administrative buildings, offices, meeting rooms, York Lanes, and common areas in all residences, washrooms, hallways and elevators.
Eating/drinking in classrooms continues to be prohibited. Designated eating spaces where you can eat and drink, with enhanced health and safety measures will be in place.

Top COVID-19 safety measures @ York
The University has established safety measures across the campuses to keep you safe.  Here are the Top COVID-19 safety measures @ York.
Ce que vous devez savoir avant de venir sur les campus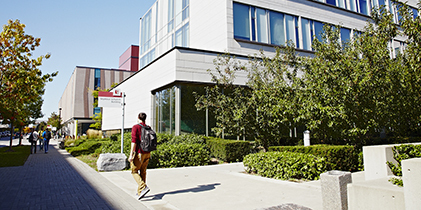 Exigences en matière de vaccination
Conformément à l'assouplissement des restrictions en matière de santé publique à Toronto et dans l'ensemble de la province, York interrompra sa Politique de vaccination obligatoire contre la COVID-19. York recommande vivement à tout le monde de recevoir une série complète de vaccins, y compris la troisième ou la quatrième dose, en cas d'admissibilité. Veuillez tenir à jour votre statut vaccinal dans YU Dépistage.
Si l'Université rétablit sa Politique de vaccination, les membres de la population étudiante dont le statut vaccinal n'est pas à jour ou qui ne sont pas vaccinés encourent le risque d'interruption de leurs études.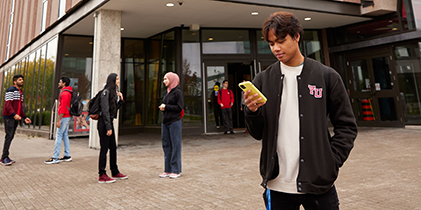 YU Dépistage
L'exigence du dépistage quotidien pour les personnes qui viennent sur les campus est suspendue. Les membres de la communauté étudiante doivent toujours surveiller leur santé et ne pas venir sur les campus s'ils ne se sentent pas bien. Veuillez utiliser YU Dépistage pour vous autoévaluer; l'équipe chargée des cas et des contacts continuera à appuyer les personnes qui signalent avoir des symptômes.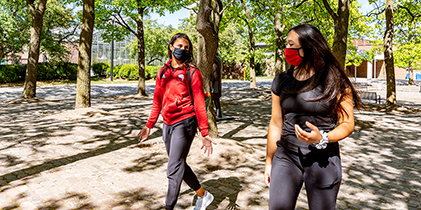 Port du masque
Afin de privilégier la santé, la sécurité et le bien-être des personnes qui se trouvent sur les campus, le Protocole de l'Université York sur les masques sera prolongé jusqu'à nouvel ordre. Le port du masque continuera à être exigé dans tous les lieux intérieurs de York, qui comprennent, sans s'y limiter, les salles de classe, les bâtiments administratifs, les bureaux, les salles de réunion, York Lanes et les zones communes dans toutes les résidences, les toilettes, les couloirs et les ascenseurs.
Il est toujours interdit de manger ou de boire dans les salles de classe. Des espaces désignés où vous pouvez manger et boire, avec des mesures de santé et de sécurité renforcées, seront en place.

Principales mesures de sécurité contre la COVID-19 @ York
L'Université a mis en place des mesures de sécurité sur tous les campus pour assurer votre sécurité. Voici les principales mesures de sécurité contre la COVID-19 @ York..